ADVANCED
MARKET MAKER MODEL
This course is available and delivery within a few hours!
File Size: 747.6 MB
---
The Inner Circle Dragons – Advanced MMXM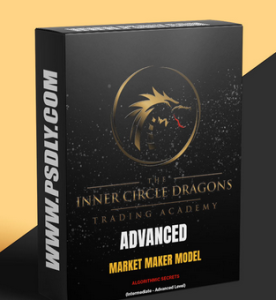 ADVANCED MARKET MAKER MODEL
A GAME CHANGER. This series takes students on a deep dive into the Market Maker Models (MMXM).
'Understanding the market maker model is the key to unlocking the markets' – ICT
When you unravel ICT concepts, you will eventually come to the conclusion that everything revolves around the market maker model. ICT once disclosed to his private students that his favourite model was the silver bullet (second stage of accumulation/distribution in the market maker model – taught in this series) – He also disclosed that the real underpinnings of his teachings are directed towards understanding how market maker models work. Like most things related to ICTs work, the key elements have been scattered throughout hundreds of videos over many years.
After 5 years of deep study and research delving into the market maker models, AK, who is a private charter student of ICT, has finally compiled all of the important components of the MMXMs into beautifully presented and well-structured video lectures. These video lectures really showcase his extensive knowledge of algorithmic theory and ICT concepts.
What's covered in these video lectures?
The anatomy of the MMXM
️Personal model, entries, and risk
Unicorn Model
Silver Bullet × Dblock Model
How to hunt for setups
Understand market narrative and directional bias
MMBM
MMSM
MMXM Grading
Swing Deviations
Types of gap and where they form
High probability orderblock/FVG formation
Range calibration
High probability BMS
How to determine buyside and sellside delivery ranges
Accumulation/Distribution blocks
Accumulation/Distribution cycle flows
High probability turtle soup entries
High probability accumulation/distribution stages
Understanding consolidations
MMXM x AMD x Power of 3
MMXM x Time
Theory in practice – real chart mmxm breakdown
Change is state of delivery (CISD)
Smart money reversal
SMT
Timeframe selection
Course Features
Lectures

0

Quizzes

0

Duration

10 weeks

Skill level

All levels

Language

English

Students

66

Assessments

Yes