Release your potential &
mobilize your body.
The Mobility Program is a 7+ month program split into 3 unique levels plus a preparation phase,
with continuous progressions and additional modification weeks to boost
your creativity for movement.
This course is available and delivery within a few hours!
File Size: 6.779 GB
---
Calimove – Mobility 2.0 – Weeks 5 – 14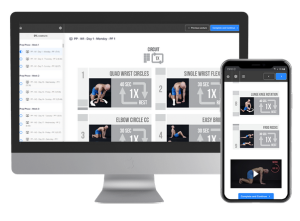 Target your training.
See how the focus of the Mobility Program can help you. All Cali Move programs improve your basic physical fitness and wellbeing, with specific training focuses. While some program benefits may be a higher percentage than others, you will see improvement in all categories.
MOBILITY

FLEXIBILITY

STABILITY
Hit your peak.
Learn to master your body, coordinate your movements and move freely in your everyday life.
Get as strong as a bull and increase resilience to injury.
You'll enjoy living fitter, making it easier to master everyday life. Feel better overall throughout the day.
Work your whole body and improve your weak points while stabilizing your strengths. Build a better you.
Clear, engaging instruction.
See important workout information displayed on the cards, including exercises, working times, and the number of sets. Mark your workouts as completed to never lose track. The follow along video system makes it easy to do the workouts as they are supposed to be.
Lifetime access to:
More than 160 exercises and modifications
High-quality online videos
32 weeks of training with follow along videos for each workout
Exact descriptions of every exercise
Recover from & prevent injuries
Eradicate imbalances & weak points
Fits every level of performance
10-35 min per workout, 3-6 times a week
Workouts unlocked as you progress
15 different flows with at least 8 different work-rest-combinations per flow
Additional modification weeks to evolve your creativity for moving your body
Course Features
Lectures

0

Quizzes

0

Duration

10 weeks

Skill level

All levels

Language

English

Students

86

Assessments

Yes