The step-by-step system to quickly become the best Dom or sub you can be
This course is available and delivery within a few hours!
File Size: 1.049 GB
---
DomSub Living – Dom Sub Training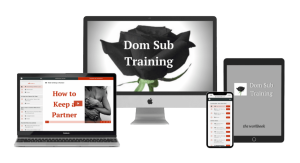 You want to become a better Dom or sub,
but it's difficult to find a quality place to start.
You're at the beginning of your BDSM journey and want to take things to the next-level but you may be feeling:
Overwhelmed at where to start and how to be a better Dominant or submissive.
Frustrated because you've been scouring the internet for the tools and teachings you need to get started but it is a jungle out there.
Scared and longing to find safe and reliable resources, some of it is far from safe, sane, or consensual.
A desire to go beyond just kink and make this your actual lifestyle 24/7.
Run ragged by your "vanilla" life (work, kids, and family obligations) which made you put your needs on the back burner.
Envious of other people's kinky lives and relationships; you're missing out and you want that for yourself.
The internet is full of sleazy information, some of it plain scary or dangerous.
Dom Sub Training aims to fix that.
What's Included in the training?
Lifetime access to all 7 modules with video tutorials, worksheets and FREE updates to the course. Forever.
Members-Only Area for Support & Feedback
100+ ideas for rules, rituals, and punishments!
Introducing… Dom Sub Training
Got your safe word ready? Here's what you'll learn:
How to become the best Dominant or submissive you can be.
Master BDSM skills safely – from communication to bondage techniques- and grow your confidence
An actual step-by-step plan for living the lifestyle to the fullest.
The best and legitimate resources for mastering BDSM and kink, not creepy and cringy "instructions" from the dark basement of the web.
Find a genuine partner or jumpstart your current relationship.
A real-life glimpse of actual Dom/sub relationships and BDSM scenes.
Get all the information you need to become a satisfied BDSM expert—from finding a partner to dealing with the challenges of a long-term relationship—and a detailed plan to make it all happen.
Here's what you'll learn in each of the 7 modules:
Learn how to define your kink preferences, focus on what makes YOU unique (so you can better connect with others), and discover how to use BDSM terminology correctly.
Learn everything you need to know to become a BDSM expert. We'll cover TRUE Dominance and submission, not what other blogs will try to tell you. You'll discover new bondage techniques to TRANSFORM your sex life, and discipline and punishment strategies that actually work.
How to Find and Keep a Partner
There are a lot of scary weirdos out there pretending to be a Dom or a sub. I'll teach you how to find a partner the RIGHT way so you can find your perfect match. Since so many new BDSM relationships fail, I'll share my surefire tricks for making yours LAST.
Go From Part-Time to Full-Time
Playing in the bedroom and on weekends is fun, but what if you could enjoy BDSM whenever you want? I'll share my step-by-step process for making it work 24/7.
Staying in Your Role when You're Busy
Become a better Dom or sub, even when you don't have the time. Learn my secrets for busy kinksters so you can avoid the dreaded vanilla rut.
Deal with Others Successfully
Did you know that many people will shame you for enjoying BDSM? You'll learn how to keep relatives and coworkers from sabotaging your exciting new lifestyle. Plus I'll show you surprising hacks for how to still have fun even if you have children.
You'll have seen some HUGE successes by the end of the training, but don't worry, I won't leave you on your own! I'll give you the extra tools you'll need to continue to increase your satisfaction on your BDSM journey.
Course Features
Lectures

0

Quizzes

0

Duration

10 weeks

Skill level

All levels

Language

English

Students

83

Assessments

Yes