"This course is available and delivery within a few hours!"Joel leads you through 3 days of boxing training and 2 days of strength-building workouts with weights that will help you get a true, full-body transformation.File Size:13.553 GB
Format File:36 MP4 – 7 PDFs
---
Joel Freeman – 10 Rounds – Beachbody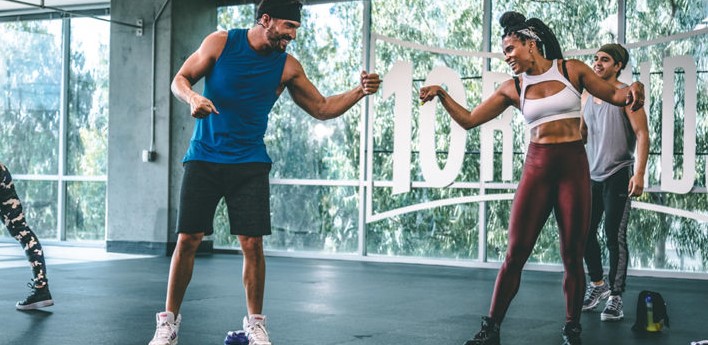 What IS 10 Rounds?
"Besides an amazing workout?" Joel asks."I'm going to show you how to work your whole body with every punch, just like the pros in the gym. If you want the shredded, 'cut' look, you're going to sweat for it."
This 5-days-a-week, 6-week program is built around the simple, precise, and effective principles of boxing — without the impact.
Joel leads you through 3 days of boxing training and 2 days of strength-building workouts with weights that will help you get a true, full-body transformation.
You won't be hitting a heavy bag or sparring partner. Instead,  you'll be shadowboxing.
"We're going to build killer combinations of punches and footwork, with a heavy emphasis on repetition, to create deep grooves of muscle memory," Joel explains."I want you to get out of your head, stop overthinking the moves, and let your body do what I've taught it to do. All you have to do is give me intensity with every punch."
The boxing workouts are broken up into 10 rounds, 3 minutes each. You'll focus on punching combinations and footwork that will progress over the 6 weeks.
The 3 boxing days are combined with conditioning drills that help build:
Power by using body weight to increase lean muscle mass
Speed/agility with fast footwork that will push you into high-intensity spikes of fat burning
Endurance to boost performance so you can burn more calories faster. There will also be some "all-out, burnout drills" where you'll punch as fast as you can, so you're completely spent at the end of the round.
You can also crank up the burn by using BODi Resistance Loops on your legs to get your stance as strong as possible.
To keep you motivated and MOVING, every workout features music that will drive your rhythm and give you the energy to pack the most into every punch.
The two days of weightlifting workouts include one day of Upper Body to build strength and power and one day of Lower Body/Legs.
As Joel says, "The power behind every punch starts from the ground up."
Joel also integrates core work into every workout. Your entire core and back will help you punch harder and faster, so you're getting a maximum workout, every time.
Are You Ready to Sweat?
If you're looking for results that are visible and powerful, 10 Rounds will help you get "lean & mean."
It's easy to learn, but you've got to give it your all.
Want to lose weight? Get cut? Shed pounds and reveal those abs?
10 Rounds will help you get the results you'll want to show off.
Enter the "Zone" Where the Fun Takes Over and the Workout Disappears
Each workout features fun, energetic music that will get your body moving and fists flying.
The goal is to get you motivated to match the pace of the beats to boost your cardio and burn even more calories.
Joel will teach you the moves, but it's up to you to master the combination and unleash your inner champion.
You'll feel strong and empowered after every workout.
The entire program will be shot on the road with Joel and the cast.
Each week features a new city with new workouts filmed in select, iconic boxing gyms and locations around the country.
"Here's the thing," Joel concludes, "this is an intense six weeks that will push you to find every ounce of energy, in every muscle of your body. We're going to sweat, and we're going to train for our best bodies ever."
—————
"NOTE: The content above has been rewritten by our library."
"To read more original content please visit here. Powered by Joel Freeman ."
Course Features
Lectures

0

Quizzes

0

Duration

10 weeks

Skill level

All levels

Language

English

Students

45

Assessments

Yes