EVERYDAY ESP
Use your natural intuition to solve everyday problems, get direction, tap great ideas for new projects and make money-generating choices!
This course is available and delivery within a few hours!
File Size: 186.39 MB
---
Laura Silva – Everyday ESP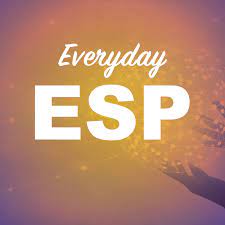 OPEN YOUR MIND TO THE POSSIBILITY THAT WE ARE BORN WITH A POWERFUL ABILITY TO CHOOSE WISELY AND BE NUDGED TOWARDS A PATH OF SUCCESS…
ESP is also referred to as one's Psychic faculty. It includes clear seeing, clear hearing and clear feeling/sensing. Have you ever had the thought of someone you haven't seen for a long time enter your mind, and then they call? Or the feeling that the phone is going to ring, and then it does? Or you have a strong feeling of "knowing" who it is that is calling, and you are right? Maybe, it's a song that keeps playing in your head, then you turn on the radio, and the same song is playing on the radio. Have you ever felt a strong feeling that a loved one is in trouble or needs your help only to discover they were trying to find you at that very moment?
When these things occur, do you pass it off as mere coincidences, or do you acknowledge that there is something deeper, more profound taking place?
Could you be tapping into what many researchers believe is a form of ESP caused by a shared consciousness or Super-consciousness that connects all people and perhaps all living things? And if this is the case, then it must be concluded that everybody has ESP to varying degrees.
One's psychic ability is a natural one and much like any other skill or talent, it gets better or stronger as you practice and develop it.
WHETHER OR NOT YOU ARE AWARE OF IT, YOUR INTUITION CAN MAKE YOU HAPPY, HEALTHY, WEALTHY, AND WISE!
C. JoyBell C. says, "Our bodies have five senses: touch, smell, taste, sight, hearing. But not to be overlooked are the senses of our souls: intuition, peace, foresight, trust, empathy. The differences between people lie in their use of these senses; most people don't know anything about the inner senses while a few people rely on them just as they rely on their physical senses, and in fact probably even more." Studies show time and time again that people who rely on their inner senses for daily use have an overall greater sense of control over their lives…Inner and Outer Control!
How do you rely on it? By consciously developing it!
One's psychic ability is a natural one and much like any other skill or talent, it gets better or stronger as you practice and develop it. Although most people have the ability to read, they aren't born knowing how to do it…they learn how to do it. In a similar way, some musicians learn how to play an instrument from very young, practice for years and enjoy great success in the music industry.
IMAGINE WHAT DAILY USE OF YOUR INTUITION CAN DO FOR YOU……
Be guided by your inner voice
Stir up creativity for problem solving
Choose great, loving and supportive relationships
Be in greater control of your life
Connect with your life's purpose
Be open to new ideas and possibilities
Establish better boundaries
See right through people's intentions
Make better choices and decisions
Everyday intuition is a function of your mind and your mind is a faculty of the spark of Source Energy that resides within you…There is great power there!
MOST PEOPLE DON'T KNOW OF THEIR GREAT INTUITIVE POWER NOR HOW TO USE IT EFFECTIVELY…DON'T YOU BE ONE OF THEM?
These age-old concepts are taken more and more seriously by a growing number of mainstream scientists in the fields of quantum theory, psychology, and other disciplines. The idea that extrasensory perception (ESP) and related psychic abilities are quite real phenomena is gaining more credence.
But…is ESP really EXTRA? We don't think so…We believe it to be an effective sense that you can develop and use effectively every day of your life!
EVERYDAY ESP IS DIVIDED INTO THE FOLLOWING 4 MODULES:
MODULE 1: EXPERIMENTS THAT PROVE ESP EXIST
In the field of quantum mechanics, physicists are now open to the possibilities of a conscious, vibratory field that permeates the Universe. In their books, The Source Field Investigations, by David Wilcock, and Seven Experiments That Could Change the World, by Rupert Sheldrake, the authors give credence to the idea that all space, time, energy, matter, life, and consciousness in the Universe is the product of a singular source field.
Module 2:MIND UNLIMITED
Our incapsulated consciousness, or Source Energy within, also referred to as the "I Am" presence, needs to have an ability to perceive; a focusing faculty much like that of the eye to focus on something far, and then in a fraction of a second, something near. That faculty is mind. Mind is a focusing faculty of Source Energy to move through space and time with no barriers whatsoever. Through mind, our consciousness can go forward or backward in time with ease.
Module 3: VITAL LITTLE DETAILS
With your unlimited mind senses of seeing, hearing, smelling, tasting and touching developed, you can experience the power you possess to create life altering, positive change.
Module 4: APPLIED EVERYDAY ESP
Your intuitive faculties need to be applied, information perceived needs to be trusted, and following through with what you perceive needs to be practiced in order for the feeling of "knowing" to strengthen. With a strong sense of knowing, you will be able to rely, in the most practical of ways, on your inner guidance system.
Course Features
Lectures

0

Quizzes

0

Duration

10 weeks

Skill level

All levels

Language

English

Students

57

Assessments

Yes