QUICK 'N' DIRTY: Choking for Pleasure
Choking has become ubiquitous with any level of kinky or rough sex. No matter what type you engage in or how light you think it is, there are risks. There are always risks. 
This course is available and delivery within a few hours!
File Size: 1.522 GB
---
Lola Jean – Quick 'N' Dirty: Choking for Pleasure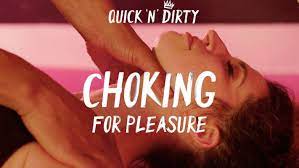 Even if you are not intending to reach someone passing out, you still need to make sure you and your partner are both informed of what to do if this happens, how it happens, and what signs to look out for. There are too many injuries that can easily be avoided with proper education.
Choking education and knowledge is not only for those administering the chokes. For those receiving, you have an opportunity to learn what types of chokes are out there and what sensation you enjoy–or not!
WATCH THE 5 PART SERIES + ACCESS TO COMPANION VIDEOS AND ARTICLES
UNDERSTAND THE DIFFERENT TYPES OF CHOKING
NEGOTIATION
SAFETY
CONSENT
You may not know what type of choking you or your partners are into and that's okay! The neck is a very sensitive and delicate area. Even so much as resting your hand on your neck can feel invasive, let alone someone else's!
I REMEMBER THE FIRST TIME SOMEONE CHOKED ME.
I wasn't remotely 'into' bdsm at the time, nor did I have much awareness of the topic. ⁠⁠I'd call myself sexually adventurous, sure, but i didn't know what that really meant. I'm lucky, I thought. I'm lucky that I enjoyed choking. we should be so lucky to roll the dice and find our one true fetish or kink. Turns out, I wasn't lucky. I don't like the physical sensation of choking and was more drawn to the mental aspects of control being exerted physically. In that scenario, I was attracted to the novelty of something new and salacious. I didn't have the opportunity to learn different types of choking, the draws to each before I decided which one was for me. ⁠⁠
Due to the sensitivity of the windpipe, breath play isn't something you're likely going to engage with via the neck! This may be confusing as many writers and sex columnists often refer to choking and breath play as if they are the same thing. Choking is a catch-all word that encompasses many things. While both of these restrict oxygen to the brain in some way (breath = oxygen in via the lungs, blood via oxygen to the brain) only breath play deals with actual breath. Hence, the need for a new language!
Part of consent is both parties being informed and that information is specific. There is more to negotiating choking than saying 'okay we're both going to choke each other.' Especially when dealing with something that has such a wide range from a light fantasy choke to someone passing out! No matter what type of choke you are doing you should never apply pressure to the front of the throat where the trachea and windpipe lie.
Course Features
Lectures

0

Quizzes

0

Duration

10 weeks

Skill level

All levels

Language

English

Students

33

Assessments

Yes