Available for Pre-Order. Within a few days, this product will be in stock.
 Nanette Lavoie-Vaughan – Dementia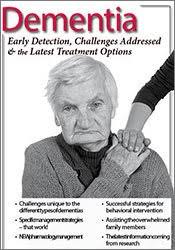 Types Dementia & Diagnosis
Controlling risk factors before diagnosis
Get the diagnosis as soon as possible
Alzheimer's
Lewy body
Vascular
Mixed
Early detection
Management Strategies
Alzheimer's specific
Lewy body specific
Wandering
Falls
Nutrition
Driving
Safety at home
Environment
Sleep patterns
Bowel function
Emergent situations
Pharmacology
Acetylcholinesterase inhibitors
Antidepressants
Anxiolytics
Antipsychotics
It is a challenge right now to reduce antipsychotics
Interventions to Meet Unique Challenges
Aggression – verbal, physical
Sexual inappropriateness
Delusions/Hallucinations
Agitation
Racism
Cultural differences
Delirium
Pre-Personality and morbid experiences
Assist the Overwhelmed Caregivers
Non-Pharmacological interventions
Stress reduction
Comppassion fatigue
Safety
Making difficult decisions
Relaxation
Hospice/End Of Life Care
Helping children understand
Caregivers of English as a second language and low literacy
Resources
Organisations
Support groups
Education materials
The most recent practice guidelines
Considerations regarding insurance and finance
Training for staff
Using geriatric neuropsychiatry services
What's On the Horizon
Early diagnosis and treatment are possible with research
Facilities for care
Aging in Place
Would you like a gift?  Nanette Lavoie-Vaughan – Dementia
?
Description:
Unique challenges for different types of dementia
Management strategies that work.
NEW pharmacology management
Behavior intervention strategies that work
Assist overwhelmed family members
Research provides the most recent information
Every 67 seconds someone in the U.S. develops Alzheimer's disease. According to estimates, there are five million people living with dementia. This number will increase to 10 million by 2050. This vulnerable population requires high-quality, safe care. Healthcare workers are challenged in all settings. You must provide compassionate care, while striving to achieve optimal patient outcomes, maintain a safe/secure environment, and support caregivers who might be suffering from compassion fatigue.
You will learn about the seminar. Nanette Lavoie-Vaughan, MSN and ANPPC-C, DNP will give you the most current information and practical tips regarding the diagnosis and management all types of dementia. This program will provide strategies for family caregivers to deal with the behavioral issues and unique challenges that dementia presents. This recording will include case studies, interactive sessions, key video examples and key videos. Don't miss this opportunity to learn effective new strategies to improve the care you provide to this patient population.
Course Features
Lectures

0

Quizzes

0

Duration

Lifetime access

Skill level

All levels

Students

0

Assessments

Yes