Available for Pre-Order. The product will be delivered within a few business days.
 Rosale Lobo – Certificate in Legal Nursing Documentation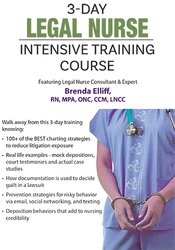 "If you don't write that, you could lose your license," Or "If you write that, you could lose your license." This is something I heard throughout my nursing career, but I didn't really understand what it meant. I was the nurse called in to the office to clarify a comment or explain an entry. "fix" Something that was already noted. My thought was: "if you just tell me what I'm supposed to chart, I'll do it."
There are also expectations for supervisors and facility managers. in Place for electronic charting by Center for Medicare & Medicaid Services (CMS). Healthcare is highly regulated, and often has reimbursement problems that are related to the documentation. What's a nurse to do…? Rosale LoboDoctor of Philosophy (c), MSN. RN. CNS. LNCC.
Learn what it means to be non-Fiction-teller nurses are trusted because they tell the truth. Because we are trained to care for patients with compassion, ethics, and integrity, it is not difficult to chart in accordance to our individual beliefs. Discover the truth behind documentation standards.
Charting for innocence and guilt – It is not hard to see how charting could lead to a trip in court. What is the best way to make this path something nurses fear? This is 3-Day Boot Camp will show you how to navigate the legal system and explain why certain actions can hurt your chances of being found innocent.
What was your deviation from the standard? What happens if no one is there to see it? Who decides if a nurse has departed from the standard? Three days of intensive learning about nursing litigation and nursing documentation will change the way that you think about your nursing practice, and how you document the care you provide.
This class is essential for nurses. It's long overdue. You will return to work more confident to lower your professional risk. Don't delay… register today before this class hits capacity and the opportunity to earn your certificate in The end of nursing documentation
OUTLINE
Healthcare Litigation
Evolution of medicine, nursing, and healthcare
The essence of litigation
The burden of proof
The deal is sealed by the expert witness
The components of Documentation
Guidelines
Interpretation
Making mistakes
Education
Social networking
Indirect care
Electronic Nursing Documentation
American Recovery and Reinvestment Act
Meaningful Use
Use of electronic documentation in a risky manner
Dangers of texting, social networking, email and SMS
Electronic Medical Record Strategies
Time management
Liability
Software knowledge/Informatics
Reimbursement Documentation
Medicare and Medicaid Changes
Participation incentives
Hospital acquired conditions
Elements of a Lawsuit
Plaintiff complaints
Review of medical records
Chronology Timeline
Do you have evidence?
Documentation When things go wrong
Compliance
Regulations
Incident reporting
Adverse events
Risk factors
Ethical Questions
Truth tells it all
Standards that meet standards
Deviations, whether real or perceived
Errors by omission
Errors in commissions
Clarity in communication
Avoiding Risky Documentation
Evidence that is credible
Avoiding ambiguity
Objectively recording events
Late entries
Correcting errors
What if the worst ever happens?
Duty/Breach Of Duty
Nurse Practice Act
State Board of Nursing
Deposition
Would you like to be contacted?  Rosale Lobo – Certificate in Legal Nursing Documentation ?
OBJECTIVES
Examine the ways in which nursing standards can be examined.
Evaluate authoritative sources.
The care planning process and the separate care plan.
Consider a strategic system for nursing documentation.
Discuss how the documentation is used to determine whether you are guilty or innocent in a lawsuit.
Learn how to avoid risky behavior while using social media and other forms electronic communication.
Inform about the best practices and standards of care when documenting adverse events and incident reports.
Analyze the Center for Medicare/Medicaid regulatory language on nursing documentation.
For your standard of practice, create a strategic tool.
Evaluate deposition proceedings.
Analyze the chronologies of time.
Be clear about defense and plaintiff claims
To reduce your litigation exposure, make sure you incorporate the right practices in your documentation.
Learn how to correct and avoid common mistakes in documentation.
Assess the facility's policies and procedures to determine if there is any risk.
The litigation timeline can be graphed.
Ask deposition questions of the plaintiff or defense team.
Practice litigation language during mock depositions.
Course Features
Lectures

0

Quizzes

0

Duration

Lifetime access

Skill level

All levels

Students

0

Assessments

Yes